Sunday School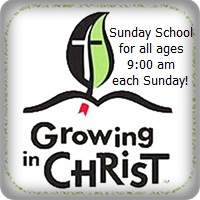 SUNDAY SCHOOL

What a delight, that we are able to teach your children about the love, forgiveness, and the promise of eternal life that is ours through Jesus Christ, our Savior. When classes do resume on Sunday mornings, children are brought into the church sanctuary for a group opening worship. Following the opening worship, the Sunday School Teachers will accompany the children to their designated classroom.
Parents/guardian meet the children back in the Church Sanctuary about an hour later.

Many of our lessons at Sunday School focus on how children can, and should, go tell about the Word of God to their friends and families. They are taught that they should put God first in all that they do. We all know that children learn best through example. Parents who regularly attend Sunday Service are setting such an example. The lessons that the children learn in Sunday School are reinforced through the Bible readings and Pastor Byer's sermon during Sunday Service. If you haven't already made Sunday worship a regular part of your week, we encourage you, as parents, to do so. Please bring your family to Sunday worship and become a true part of our family, The Lord's family, here at Our Redeemer Lutheran Church.
Train a child in the way he should go, and when he is old he will not turn from it. Proverbs 22:6