Maureen's Haven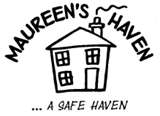 Volunteers are needed
Please contact Linda Ryan at 334-1069 or
or 722-4000 ext 3
WHAT IS THE MAUREEN'S HAVEN HOMELESS OUTREACH PROGRAM?
Every evening during the winter months, November 1st through April 1st, homeless guests are screened and transported from the North and South Forks of Long Island to one of fourteen host Houses of Worship between Greenport and East Hampton.
Upon arrival to the host site, the homeless guests are welcomed and are registered by church volunteers. Guests then proceed to the sleeping areas to claim their bed and put down their personal belongings.
Volunteers who have been preparing a nutritous, hot dinner for both the guests and volunteers are ready to serve 35 to 45 people by 7:00pm. Everyone sits down together for dinner and shares this opportunity for fellowship.
After dinner guests are given the opportunity get warm clothes, play board games, watch a movie or just rest .
Volunteers (Innkeepers) stay to monitor the guests overnight. At day break (5 am) a breakfast crew arrives to prepare and serve a substantial, hearty morning meal. In addition, a bagged lunch is prepared for each guest to take with them upon departure.
The volunteer clean up crew begins to break down the beds and collect the bedding and towels for laundering at 6:30 am. The floors are swept and disinfected, bathrooms are sanitized and the kitchen is cleaned.
Promply at 7:00 am the guests leave and are transported back to where they originated.